2.30% - everyday great.
Make saving a part of your routine. At EQ Bank, our interest* is always competitive.
Start saving
Introducing EQ to EQ Transfers
Announcing an effortless way to send money to friends, family or anyone else with an EQ Savings Plus Account. Once you're connected, you can send money seamlessly and securely – no extra email step needed. And it's always free.
Learn more
Fewer costs for us. More savings for you. That adds up.
Unlike traditional banks, we don't spend money on costly branches. Because we'd rather take that money and offer you a great everyday interest rate*, no monthly fees, 5 free Interac e-Transfers® per month, and more.
Save faster

Saving made easy

Free everyday banking

Sign up from your phone

Saving made easy
We keep it simple: you earn a high interest rate on every dollar in your EQ Bank Savings Plus Account, every month. All you need to do is sign up.

Free everyday banking
With EQ Bank's Savings Plus Account, there are no monthly fees, no minimum balance to maintain and everyday banking is free. That's a faster way to save, and a better way to bank.
No branches more savings.
Bank branches are costly to run. So we choose to invest in our customers instead. With EQ Bank, you bank from one account, with one everyday high interest rate and no hidden fees.
Simple and flexible.
Get 5 free Interac e-Transfers® per month when you join. See what else EQ Bank can do for you.
We're here to help.
Whenever you need us, EQ Bank is here. Call our 24-hour customer care team, based right here in Canada, to talk to us any day of the week. And we're also always available on live chat or email.
Build your savings faster.
Use our Savings Goal feature to track your progress too. The EQ Bank Savings Plus Account helps you get to where you want to go. Check our everyday high interest rate here.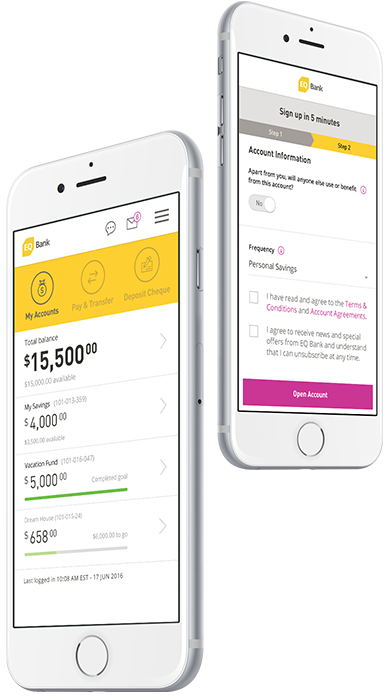 Designed for
better banking.
Download our easy-to-use mobile app and enjoy the convenience of a truly digital bank.




Get our everyday high interest rate*.
*Interest is calculated daily on the total closing balance and paid monthly. Rates are per annum and subject to change without notice.
Interac e-Transfer® is a registered trade-mark of Interac Inc. Used under licence.