How to save more by paying yourself first
---
Typically once you get paid, there's usually not much money left over for savings after you've covered your expenses. But what if you did the opposite?
What if you put money aside towards your nest egg before allocating any funds to paying your bills? Sounds backwards, right? Not unless you follow our recipe for success. And the secret ingredient folks, is in paying yourself first.
The Pay Yourself First Principle
If you have your payroll going into a chequing account, chances are you're earning little to no interest. Switching your direct deposit to a high-interest savings account with extra features can offer greater returns and more flexibility when managing your day-to-day finances.
For starters, you'll earn interest on every dollar from the moment your paycheque is added to your account. This means your hard earned money is growing even if it's sitting there for only a few days (because sadly, we all know credit card payment due dates wait for no one).
With the flexibility of free bill payments, pre-authorized debits and Interac® e-Transfer* features that come with an account like the EQ Bank Savings Plus Account, you can finally bid your chequing account adieu while your credit card takes care of the things you need to buy.
Tucking away the first portion of your pay can also help you budget better. With the remaining funds, you'll be able to prioritize your income by focusing on mortgage payments, groceries and utilities before happy hour with friends. Cheers to that!
Payroll two ways
 The two most popular ways to set up your payroll direct deposit is the all-at-once option or simply splitting it.
Go all in: have your entire paycheque automatically deposited and get your money making money ASAP. Take out what you need by transferring funds or making bill payments with an account that has free online banking features.
Divide and conquer: if possible, ask your employer to have a portion of your salary transferred to your savings account. You can then keep the rest for payments in a bank account you might have elsewhere.
Depending on which option you prefer, having funds go into a savings account can increase your lot exponentially.   
Set it and forget it
Making saving a habit keeps you on track when achieving the things you really want. From big ticket items to building an emergency fund, having a set schedule as part of your savings strategy adds progress to the mix, and lots of it.
If you get paid bi-weekly, for example, a great way to keep your savings growing faster is by setting up a separate savings account for specific goals. Think of it this way: putting aside $200 every two weeks into your designated "Vacation" account adds up to $5,200 over a 12 month period (and that's before any interest is earned). With all that extra cash, you can book an all-inclusive package for two including round trip airfare to a sunny destination plus have spending money left over.
By consistently investing in yourself, you can reach your goals sooner.

Saving a set amount over one year on a regular basis before interest is added can get you to your dream vacation sooner.
They say it takes 21 days to build a habit. To that, we say, game on. If you set it and forget it until it becomes part of your financial routine, you'll save time and money all in the same stride.
Get 'er dun
It's time to ditch the painful branch line ups, lay that dusty chequebook to rest for good, and move on to an all-digital, all-you-can-bank, no hidden fees kind of financial life – enter the EQ Bank Savings Plus Account.
Great news is that all direct deposits to an EQ Bank Savings Plus Account have no holds. That means you can access your payroll to save money the moment your balance goes up.
Let's get to it then, shall we? Setting up your payroll direct deposit is easy. Here's how: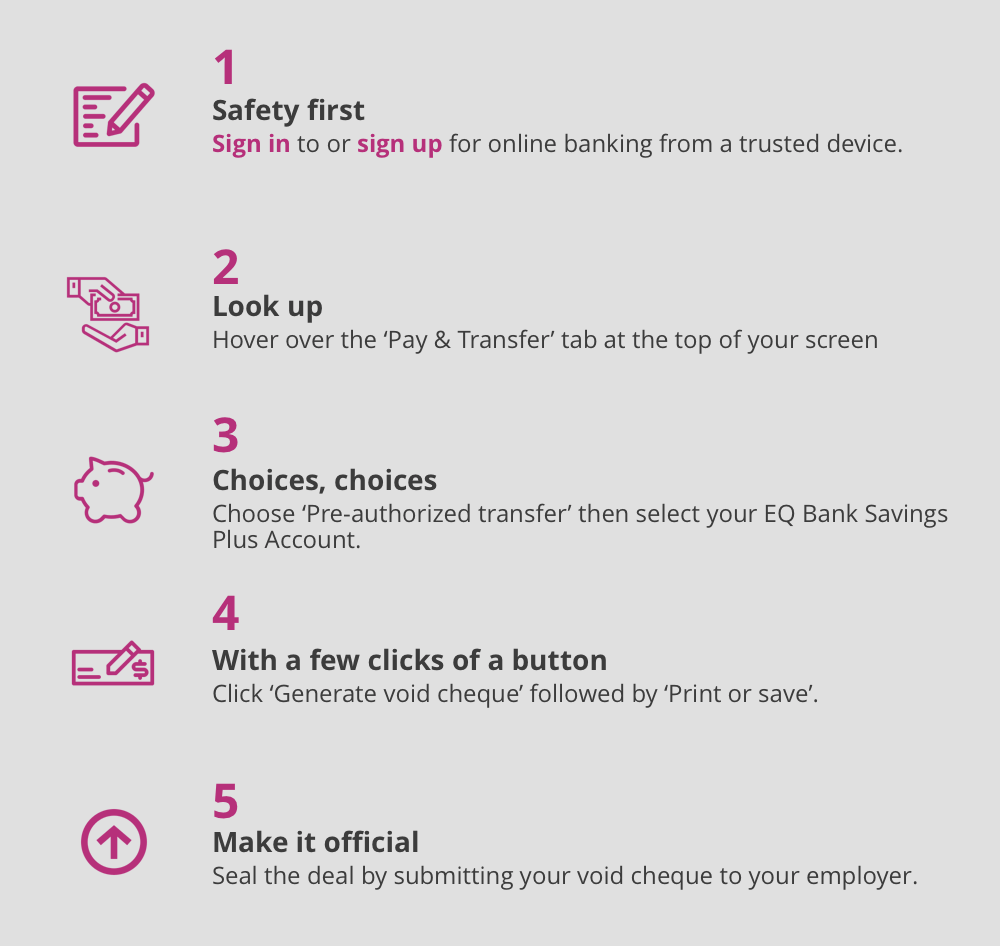 Ta-da! You're now on your way to saving even more with the simplicity, ease and convenience of having your payroll direct deposit set to an everyday high interest rate. 
Like Rome, your savings won't be built in a day. But by paying yourself first with automatic, reoccurring deposits, you'll achieve your money goals faster than you can say "Mamma Mia!"
*Five Interac e-Transfers® are free per month with an EQ Bank Savings Plus Account.
The material on this site may not be reproduced, distributed, transmitted, cached or otherwise used, except with the prior written permission of Equitable Bank.